UTMB Galveston - Class of 1967
Celebrating Our 50th Reunion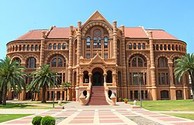 In Memory
Donald Thomasson
Donald Thomasson

DONALD LOUIS THOMASSON M.D., 65 years old, passed away September 6, 2004 in Houston, Texas.
Don was known to his family and friends as Doc, or Docky Don. He was born on July 4, 1939 in Houston and grew up in southwest Houston the son of Louis and Lucille Thomasson. Don worked his way through school at Wheaton College, earning his Masters Degree. He then attended U.T.M.B. Galveston and received his Medical Degree with a Specialty in Psychiatry in 1967.
Don served his country in the United States Navy as a Lieutenant Commander. Afterward, Don practiced medicine in New York. He returned to Houston in 1989 continuing his service in the field of psychiatry.
A generous, kind, supportive soul, Don was a stranger to none and was beloved by all he met. He deeply loved his family and embraced many into that family. He is survived by his dearest friend and partner, Marshall Tennill; siblings Martha and husband Bob, twin Ron and wife Sandy, Fairy and husband Tom, Ted and wife Debbie, Tim and wife Darlene and many well loved cousins, nieces, nephews, friends, and coworkers.
His family and friends will celebrate his life and new heavenly home on Thursday, September 9, 2004 at 4 o'clock in the afternoon at the Bradshaw-Carter Memorial Home, 1734 West Alabama Street, Houston with the Rev. Ronald E. Thomasson officiating. The family extends a special thank you to the staff at the M.D. Anderson Cancer Center. In lieu of flowers, memorial contributions may be made to the University of Texas M.D. Anderson Cancer Center, P.O. Box 4486, Houston, Texas 77210-4486.