UTMB Galveston - Class of 1967
Celebrating Our 50th Reunion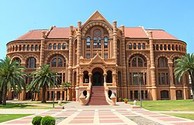 In Memory
Fenella James (Schaeffer)
Dr. Fenella James Schaeffer
Dr. Fenella Schaeffer, age 62, retired Coleman physician, died Friday, June 6, 1997, at Abilene Regional Medical Center.
Dr. Schaeffer was born June 4, 1935 in Houston, Texas, the daughter of the late Harmond and Mariam Coyle Teplow. She grew up in Houston and graduated from UTMB in Galveston. She moved to Coleman in the early 1970's where she practiced medicine for several years. She married Vernon Schaeffer in 1975 and he preceded her in death. She was a member of Emmanuel Baptist Church.
Survivors include four sons, Robert Allen James, Jr. and William David James, both of Coleman; Calvin Maurice Frey of Lubbock and Patrick Henry of Levelland; five grandchildren, Calvin James "C.J." Frey, Jonathan Frey, Quincy Allen James, Summer Eubanks and LaSha Kendrick; one sister also survives.
Graveside services were 2 pm Monday at Coleman Cemetery with Rev. Dick Schultz officiating.
Obituary published in Coleman Chronicle and Democrat-Voice.