UTMB Galveston - Class of 1967
Celebrating Our 50th Reunion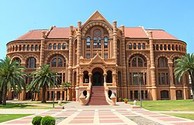 In Memory
William Baber
William L. Baber
William Lamar Baber III, 64, died Monday, June 7, 2004, in Longview.
He was born Nov. 21, 1939, in Marshall to William Lamar Baber Jr. and Geraldine Salmon Baber. He was a graduate of Stephen F. Austin State University, where he received a bachelor of arts degree, and of the University of Texas at Galveston, where he received his M.D. He would later work in automobile sales.
Survivors include his daughters and a son-in-law, Melinda and Stephen Todd Allen of Heath and Julie Baber of Chicago; his grandchildren, Stephen T. Allen Jr. and Leslie Michelle Allen, both of Heath; his uncles and aunts, Jimmy and Jean Salmon of Longview and Ben and Clara Alice Salmon of Linden; and a number of cousins.
He was preceded in death by his parents.
Services will be held at 10 a.m. Saturday, June 12, 2004, at the Little Chapel by the Lake at Colonial Gardens Cemetery on Texas 31 South in Marshall. Family and friends will gather for visitation 6-8 p.m. today, June 11, at Sullivan Funeral Home. Interment will be in Colonial Gardens.
Harold Solomon, Gaines Weeks, Todd Allen, Stephen Allen Jr., Ronan O'Malley and Harvey Pippen will serve as honorary pallbearers.