UTMB Galveston - Class of 1967
Celebrating Our 50th Reunion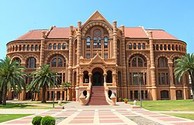 In Memory
Calixto Valle
CALIXTO CEDRIC VALLE III
The world has lost a brilliant and interesting person. Calixto Cedric Valle III passed away Tuesday, August 18, 2015 in Mission, Texas. He was preceded in death by his parents Calixto Cecilio Valle and Delia Hinojosa Valle and his namesake infant older brother. He is survived by his loving wife Lynda Nye Valle, daughter Alissa Clair Valle Trudeau, and sister Andrea Valle Lerma; and two grandchildren.
Calixto was born on March 18,1942 in Savannah, Georgia. His colorful and accomplished life began as a child of a United States Air Force officer. He graduated from Rio Grande City High School in 1960 and took his degree from the University of Texas medical school in Galveston and practiced during a long career as a psychiatrist. In the 1980's he took the law degree from the University of Boston. Calixto was very talented. Among his many personal skills were his great facility for learning and his wonderfully impressive conversational style. No topic was beyond his reach. Furthermore, his engagement was always with a respectful and open mind. He provided intellectual stimulus.
Arrangements include a vigil Friday starting at 3 PM at Sanchez Funeral Home in Rio Grande City with a rosary at 6 PM and a funeral Mass on Saturday at Immaculate Conception Church at 10 AM followed by internment at the city cemetery. Pall bearers will be Martin P. Garza, Jr., Samuel F. Vale, and Arnold T. Zarate.
Published in The Monitor on Aug. 21, 2015