UTMB Galveston - Class of 1967
Celebrating Our 50th Reunion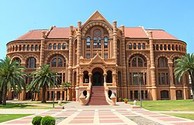 In Memory
Lexsee Nickson
Lexsee Nickson
Lexsee Nickson Jr., M.D., 74, of Manlius, passed away peacefully at home on Thursday, January 26, 2012.
Born in Louisiana, he grew up in Beaumont, Texas, the son of the late Lexsee and Mary Jones Nickson. Dr. Nickson graduated from Lamar College and received his doctorate from the University of Texas. He served as a captain in the United States Air Force from 1969 to 1971. Dr. Nickson completed his residency at Upstate Medical Center in 1973. Lexsee served as the chief of radiology at Syracuse Community Health Center for the past 25 years.
Throughout his career, he consistently contributed his time and expertise to organizations geared toward community service and humanitarian and community betterment. Lexsee lived life as a true optimist, appreciating the simple treasures and beauties in life. He was known for his genuine smile and the ability to leave others with a true feeling of being valued. His greatest love was to care for his family and all those he came in contact with. He will also be remembered as an avid SU basketball and football fan.
Lexsee was predeceased by his brother, David; his parents; and his brothers-in-law, Delli Hawthorne and Sean Cook. He is survived by his wife of 18 years, Marchelle Cook Nickson; a son, Jonathan (Jennifer) Nickson; two daughters, Mary and Zoe; a granddaughter, Emily; two sisters, Rose (Jerry) Polk and Mary Hawthorne; a brother, Billy (Betty) Nickson; and several nieces and nephews.
Memorial Services: 10 a.m. Tuesday at St. Ann's Church. Burial will be private. Family and friends may call 4 to 7 p.m. Monday at the church, 104 Academy Street, Manlius NY 13104.
In lieu of flowers, contributions may be made to SCHC Foundation Inc., the Dr. Lexsee Nickson Memorial Fund, c/o Finance Department, 819 South Salina St., Syracuse NY 13202.

Published in the Syracuse Post Standard on Jan. 29, 2012