UTMB Galveston - Class of 1967
Celebrating Our 50th Reunion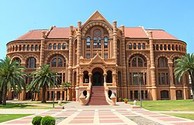 In Memory
Doris Lee
Doris Lee
Dr. Doris A. Lee passed away June 27, 2015.
Dr. Lee was born on September 23, 1924, near Philadelphia, Pennsylvania, to Roy and Helen Dunkle. Doris was raised in Sunbury, PA and attended Penn State and Northwestern Universities, earning a degree in Journalism. After graduating from Northwestern, Doris married Donald W. Lee, PhD. She later attended Medical School at The University of Texas Medical Branch in Galveston. She chose to stay with UTMB, and became Assistant Professor of Anesthesiology. Doris served as a mentor and role model to future female MDs until her retirement in 1992.
Doris was preceded in death by her parents and husband. She is survived by her sons, Eric Lee (Janell), Davis Lee, and Donald Lee (Cynthia); granddaughters, Emily Lee, Laura Lee and Katy Lee: sister, Jean Dreesen (Robert) and nieces, Dr. Elizabeth Dreesen and Ann Dreesen. The family would like to thank Dr. Erin Hommel and the staff of Concord Assisted Living.
A memorial service will be held at the Unitarian Universal Fellowship in Galveston on Saturday, July 11th at 10:00 a.m.
In lieu of flowers, the family requests that donations be made to Rosenberg Library.