UTMB Galveston - Class of 1967
Celebrating Our 50th Reunion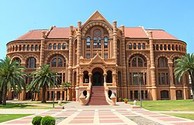 In Memory
Gerald Callas
Gerald "Gerry" Callas
Gerald "Gerry" Callas, M.D., PhD, age 79, passed away on Saturday, September 1, 2012 at the University of Texas Medical Branch Hospital.

He was born in Beaumont, Texas on October 14, 1932. He served in the U.S. Army during the Korean War from 1951 to 1953. He graduated from Lamar University and received a Bachelor of Science Degree. He was accepted into the graduate program at UTMB in 1959 and went to work in the accelerated program to begin his PhD and MD degree. He received his PhD in 1966 and his MD in 1967. He was a professor of anatomy for over forty years at UTMB where he received numerous teaching awards during his career and touched the lives of countless medical students. This year he was the recipient of the Ashbel Smith Distinguished Alumni Award.

He and his wife Carolyn operated and owned a dance academy for 48 years. He was preceded in death by his parents James and Amelia Callas; brother James Howard Callas, PhD; and sister Anna Abood. He is survived by his wife of 45 years Carolyn Ehman Callas; sons Gerald R. Callas, M.D. and wife Lisa of Beaumont, Texas and son James M. Callas, M.D. and wife Michelle of Georgetown, Texas; grandchildren Carson Callas, Ava Grace Callas, Emerie Callas, Mackenna Callas and Raygan Callas; sisters Christine Cansler and Dorothy Abood; and brothers George Abood and James Rodney Callas.

Visitation will be held on Tuesday, September 4, 2012 at J.Levy & Termini Chapel at 5:00 P.M., with a Rosary to be held at 6:30 P.M. A Mass of Christian Burial will be held on Wednesday, September 5, 2012 at Sacred Heart Catholic Church at 10:00 A.M. Entombment will follow at Calvary Catholic Cemetery. Pallbearers will be Johnny Listowski, Michael Lee, Brett Morris, Pat Doherty, Mark Van and Lloyd Bell. Honorary pallbearers will be Stacey Gibbons M.D., John Paul Listowski, Jason Cansler, Brian Cansler and Russell Hansen. J. LEVY & TERMINI FUNERAL HOME 2128 Broadway Galveston, TX
Published in the The Beaumont Enterprise from Sept. 2, 2012